We understand that every student has unique learning needs. Our teachers are committed to identifying and addressing those needs at every stage of each student's academic journey.
Get your children off to the best start in life
Ninety percent of human brain development occurs before the age of 5*. This means that the preschool you choose for your son or daughter will have a profound impact on their lives.
Our preschool K3 and K4 classes are renowned throughout Marion County for our highly qualified staff, a holistic curriculum that meets the highest standards, and child-friendly facilities.
Your child will spend time with qualified, experienced, and passionate teachers who exemplify the values we instill in our students: love, kindness, faithfulness, and self-control. This is especially impactful for young children who learn through observation and imitation.
Our holistic curriculum follows the best pedagogical practices, using fun, educational, and interactive activities. Through phonics, crafts, music, exploring the natural world, and play, your child will have the building blocks for lifelong development and success in:
*Arizona State University/PBS
Where your child develops the mindset for future learning and success
In lower school (K5 through 2nd grade classes), your child takes their first steps into a more structured learning environment that includes language arts, math, science, and social studies. It is in this stage where they must have positive learning experiences and develop a curious mind to succeed in the future.
At Grace Christian School, your child will enjoy learning by using creativity and self-expression to engage with their education and peers. Our activities are based on core subjects for strong academic foundations, as well as curiosity, self-sufficiency, and Christian values.
Through interdisciplinary projects, sharing activities, and games, your child will begin to develop social, emotional, and physical skills, like cooperation, problem-solving, and respect for others and their ideas.
They will be supported by our highly trained, passionate teachers, and enjoy our modern classrooms, beautiful campus, and world-class sporting/play equipment.
Your child will develop and cherish memories, knowledge, skills, and friendships that will last a lifetime.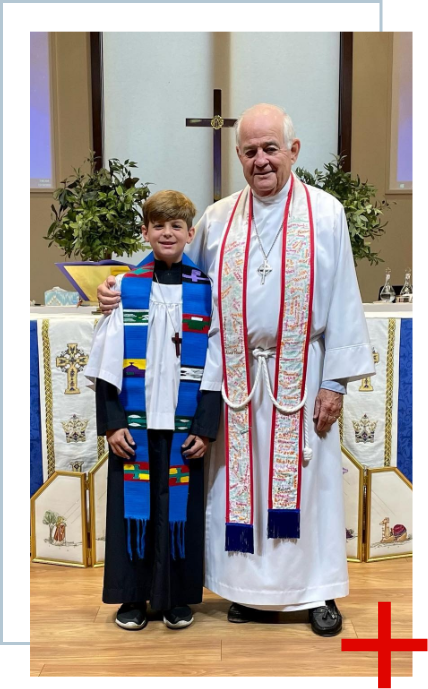 Connect your child with holistic learning, inspiring teachers, and God
In their 3rd, 4th, and 5th grades at Grace Christian School, students expand upon the foundations they've built to continue developing their abilities and relationship with God.
Your child will grow and thrive through a variety of learning and spiritual activities, like group projects, hands-on science experiments, church service, and technology-based learning.
Elementary students attend the Technology Lab once a week for instruction, including keyboarding skills, computer science, digital communication, and more. These real-world applications make learning more relevant and exciting.
This all takes place under the strong leadership of our administrators and teachers, who have close relationships with the students. Our teachers know how to motivate and engage your child through interactive lessons, and have a strong understanding of all core subjects, such as math, reading, and science.
We hold high expectations for our teachers to deliver their best performance. Our teachers also hold high expectations for their students, to help your child become a benevolent, hardworking leader of tomorrow.
Develop your child's potential to become a lifelong-learner, capable, and well-rounded future leader
As students age into middle school, their learning needs become more unique. At Grace Christian School, your 6th, 7th, or 8th grader will be well on their way to achieving academic success, as we provide more individualized learning programs tailored to their needs and interests to maximize learning opportunities.
Your child will be able to reach their full potential with a comprehensive, blended curriculum. They will acquire the latest knowledge and skills in our Technology Lab, learning digital media design, robotics, and STEM skills to help identify their passions and learn the skills of tomorrow.
Our unique Quest program is designed to challenge gifted students without frustrating them. We also have differentiated classes where children who are struggling receive extra support from working closely with highly skilled and experienced teachers.
With our extracurricular activities and programs including prayer, foreign language instruction, sports, and drama, your child can flourish academically, physically, socially, and spiritually in a warm, Christ-centered environment.